Characterized by its beautiful vaulted domes and gorgeous interior decorations, the alluring 16th century Sultan Amir Ahmad Bathhouse is one of the most exquisite and best preserved buildings of its kind in all of Iran. Named after a Safavid Imamzadeh, this Iranian National Heritage Site also goes by the name of the Ghasemi Bathhouse. Although their flourishing took place after the advent of Islam, bathhouses have been an age-old and integral part of the Iranian culture. Come along with goingIRAN to learn and discover more about this attraction!
To the Persian culture, bathhouses were never meant to serve the single function of cleansing. As hinted by their design, they're just as much a place of communal gathering and socialization as they are a place of bathing. On occasion, they have even been used, casually, for noon and evening prayer. These beautifully constructed buildings played a vital role in the social lives of Iranians in the past; continued even to contemporary times.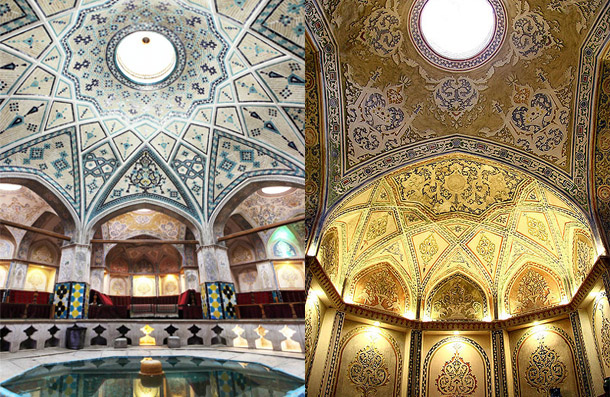 The stunning 1,000 meters squared building is comprised of two main sections; The Garmkhaneh and Sarbineh. The Sarbineh (dressing hall) is an octagonal-shaped hall centered on an octagonal pool that is surrounded by many elevated benches. All around the perimeter of the pool, eight pillars separate it from the lounging area. The Sarbineh connects to the Garmkhaneh (bathing hall) through a multiple turning pathway. The turns of this passageway were designed in such a way to minimize heat and humidity transfer between the two halls. The Garmkhaneh was the main washing area which consisted of multiple sitting areas, as well as hot and cold bathing pools. Four pillars separate the Khazineh (main bathing area) from the smaller private bathing rooms around the Garmkhaneh.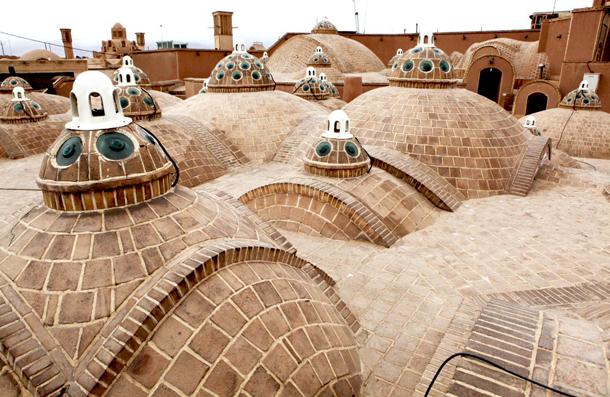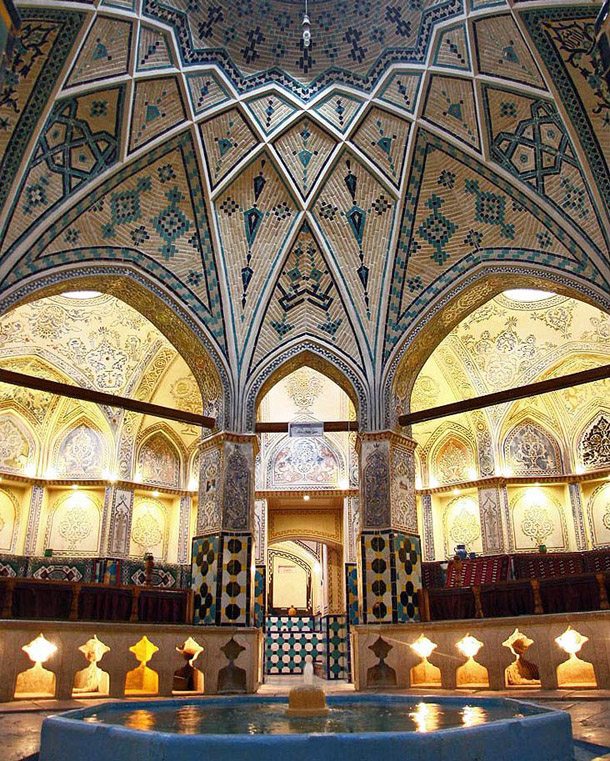 After serving as a bathhouse for centuries, it was briefly converted into a traditional tea house and then lastly a museum. The entire interior of this phenomenal building is adorned with beautiful and intricate paintings, gold tilework, brickwork and plasterwork. It is also home to some very exquisite examples of some world renowned Iranian turquoise tilework. Under the various elegant domes of this luxurious building, it is truly difficult to find a spot that is not decorated! The domes themselves were also designed, with convex glass windows, in such a way to retain heat while dispersing the most amount of light into the bathhouse.
Trace the footsteps of the antiquated Iranians and sense the meaning of cultural and communal development prior to the technological era! Imagine the lives they lived in their tight-knit collective communities, gathering around a day of cleansing and socializing.
City/Town: Kashan
Street Address: Sultan Amir Ahmad bathhouse, Sultan Amir Ahmad Alley, Alavi Street,.
Operating Days: Every day
Operating Hours: 8am – 8pm
Typical Price: 150.000 Rls. (15.000 Tomans)
Neighbourhood: Imamzadeh Abo Lolo – Tabatabaei house – Abbasian house – Mozaffari traditional restaurant – Borujerdi house – Ameri hotel – Sadeghi house – Taj house