Five minute walk from Hafez's tomb. With some correlation, the very location the beautiful Persian garden now is, has been mention in many of Hafez's poems. He wrote about how refreshing and inspiring the lush green and floral plane was.
Also referred by its Persian name, Bagh-e Jahan Nama, this refreshing oasis is one of the oldest Persian gardens in all of Iran! With many ups and downs in its long history, this is surely a place of rich cultural heritage.
Come along with goingIRAN to see and discover more about this beautiful antiquated Persian garden!
History of the Bagh-e Jahan Nama
Just like Delgosha Garden, Jahan Nama Garden experienced the peak of its flourishment during the Muzzafarid and Injuid Dynasties (of Arab and Mongolian origins). This predates the subsequent and widely reigning, Timurid Empire.
Ibn Abarshah, a famous traveler and historian of that era, referred to Jahan Nama Garden as an "adornment of the world".
The Timurid rulers loved the majestic garden so much that they ordered a similar one, with the exact same name 'Jahan Nama Garden' to be built nearby their hometown of Samarghand (in modern-day Uzbekistan).
The beautiful Jahan Nama Garden was so valued that it was maintained and cherished right up to and through the Safavid Era… How many centuries is that?!
However, not all was roses for Jahan Nama (yes, as always, pun fully intended). With the fall of the theocratic Safavid government in the early 18th century, the epic Persian garden was disregarded and overlooked.
It was only from the reign of Nader Shah through the rule of Karim Khan-e Zand that the garden flourished, yet again. The structure visitors see today at Jahan Nama Garden is from its period of resurrection during the Zand Dynasty.
The historic garden didn't have any walls either. It wasn't until 1771 when Karim Khan ordered for the construction of walls, around, and walkways, inside, that the garden had such structure to it.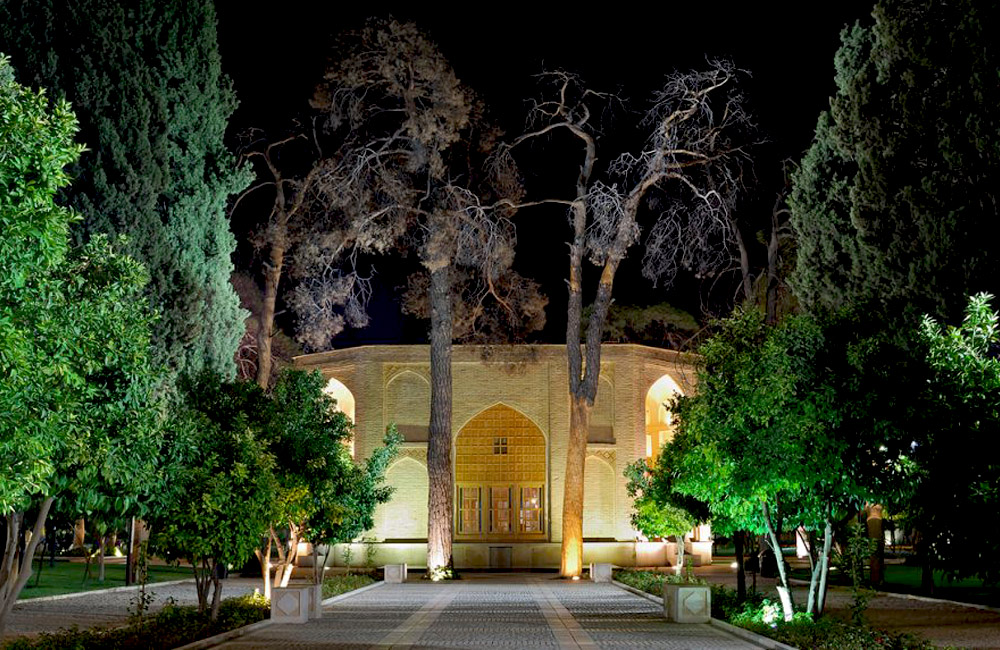 Jahan Nama Garden's Features
Travelers and tourists visiting the Jahan Nama Garden should expect any stress or worries that they may have in life to be greatly lowered. The lovely Persian garden features so many little beauties with such perfect balance that one can't help but be taken away by it.
Whether you're visiting during the day or night, Bagh-e- Jahan Nama will soothe your soul. While the sounds of its tall trees ruffling in the breeze caress your ears, the beautiful array of flowers and their perfumes please your eyes and nose and, of course, the calming sound of running water from its elongated pool; running through the center of it all.
The central pavilion in Bagh-e Jahan Nama is a building with an octagonal shape and is made in the traditional Persian architectural style. Compared to the lavish mansions seen in some Persian gardens, this building is rather simple in its design.
That being said, it still features fine examples stucco carving, plasterwork, woodwork, arcades and brickwork. After you snap those glorious shots from the outside, poke your head in and take a couple from the interior too!
Also, don't forget to check out Darvaz-e Quran (Quran Gate) and Khwaju Kermani's Tomb and the Tomb of Hafez, all within walking distance of Jahan Nama Garden!
| Befor Travel To Iran Read This Articles

how you can use Credit Card in Iran

Everything About Internet access in Iran
City/Town: Shiraz
Address: Jahan Nama Garden, Hafez St., Azadi Blvd. Gha Sq.
Operating Days: Every day
Operating Hours: 8 Am. to 10 Pm.
Typical Price: 200.000 Rls.
Neighborhood: Tomb of Hafez – Quran Gate – Haft Tanan Museum