The Khwaju Kermani Tomb is the resting place of the prolific Persian poet and Sufi mystic from Iran, Khwaju Kermani, in Shiraz, Iran; a figure whom inspired the life of many through his poems.
Much like you, Khwaju was very interested in travelling and learning about different cultures. During his years of youth he travelled to a number different nations, gaining experience and learning about life.
Much like himself, the Khwaju Kermani Tomb complex has been very tastefully designed, reflecting a delicate yet dramatic nature of the late writer and mystic. Come along with goingIRAN to see and learn more about this famous Persian Poets sanctuary.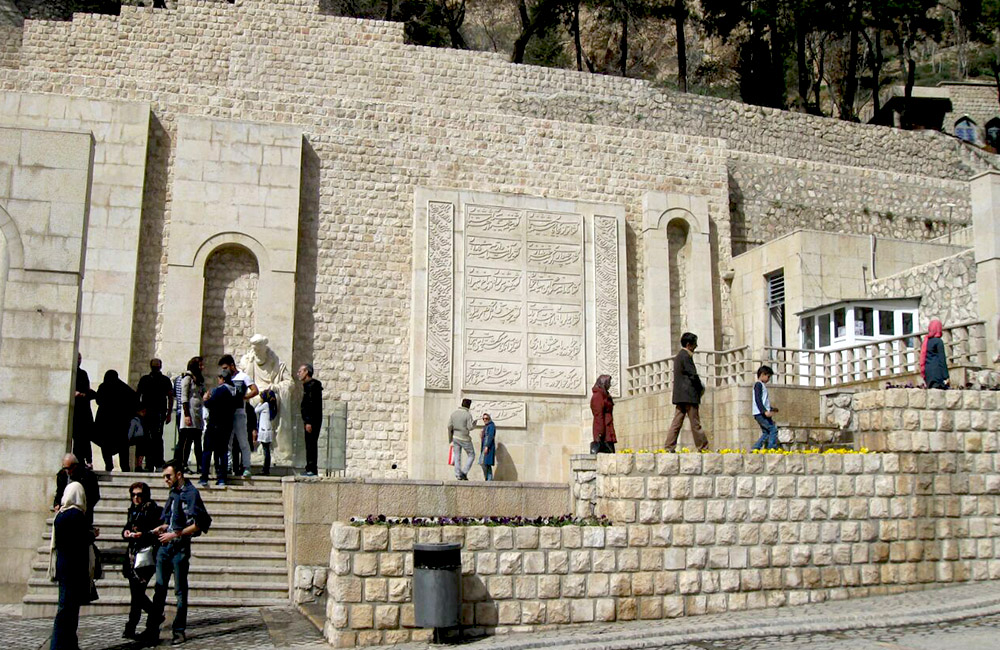 Khwaju's Life
Born on December 24th, 1290, Khwaju Keramani led a dignified life of literature and spirituality. Right up to the day of his passing in ~1349, he continued to bless the world with his beautiful literary works about love, romance and divinity.
After a long life of travelling and meeting with many scholars of different nations, he then returned home, filled with inspiration. Through his own perspective, he then share his life lessons of love and divinity with fellow Persians and all to study his work thereafter.
Although he was born in Kermani, a dead giveaway from his name, was passed away in Shiraz. His Tomb was built was in 1936 for Khwaju Kermani's commemoration by the Fars Culture Organization.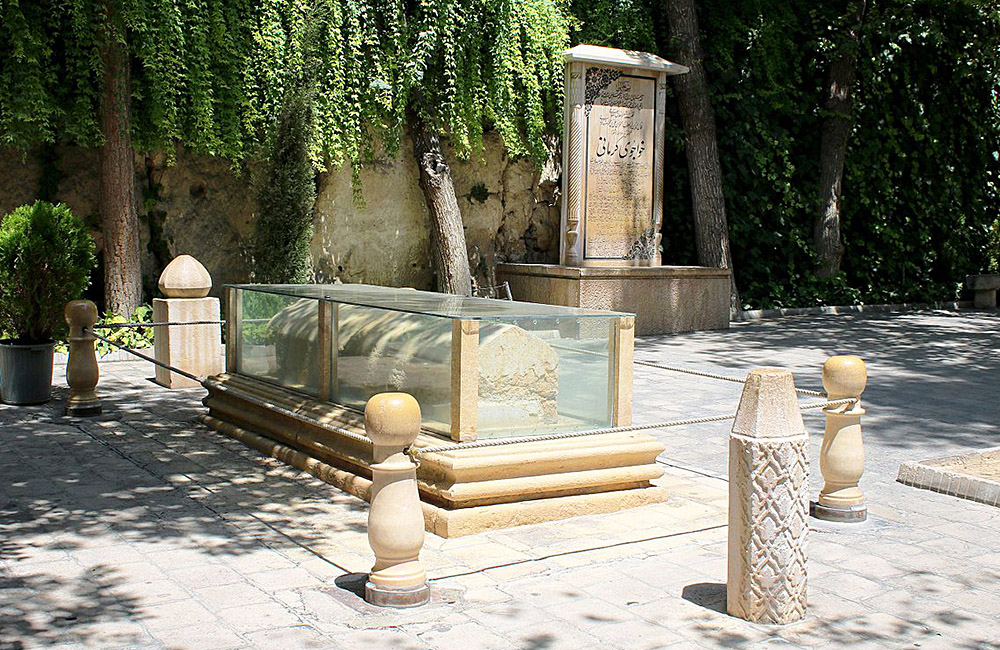 Khwaju's Tomb and Poetic Sanctuary
Located at the foothills of Sabooy Mountain right at the beginning of the Shiraz – Isfahan Highway. The Khwaju Kermani Tomb area has a gentle water spring that flows nearby and feeds the beautiful flora and fauna of complex.
In the center of the tomb complex there is a gravestone with some inscriptions, however the writing does not say Khwaju's name. The only words on the stone translate to "The whole of my words is, Ali, and the other is the form of Rabb Zul Al-Jalal and Al-Kham.
Throughout the tomb-complex, tourists can find beautifully carved statues standing against finished white-stone walls creating a dramatic atmosphere for some great photos.
The entire sanctuary complex has been designed very uniquely, in a modern style, with the various stone-block walls and structures beautifully complimenting the plants and trees. Since the entire area is uncovered, his tombstone now lays protected inside a glass encasement.
You'll be happy to know that Khwaju Kermani's Tomb is just walking distance away from Hafez's Tomb. On your way there, you also won't be able to miss the Quran Gate either! We recommend for tourists to definitely take a peek inside the life and legend of this great Persian poet in your in the neighborhood, along your travel in Iran!
| Befor Travel To Iran Read This Articles

how you can use Credit Card in Iran

Everything About Internet access in Iran
City/Town: Shiraz
Address: Shiraz Blvd. Quran gate.
Operating Days: Everyday
Operating Hours: 8am – 10pm