Located about 35 kilometers southeast of Kerman, Iran, the beautiful Shazdeh Mahan Garden is an eye-catching oasis gem of the desert sitting on the foothills of Jupar Mountain, some 1850 meters above sea level.
Traditional Persian Gardens are always a treat to visit. At these destinations, travelers and tourists can really take a break from the surrounding heat, all the while experience the life of a member of an imperial Persian family!
The Shazdeh Mahan Garden was recently also added to the UNESCO World Heritage Site list, as a part of the Persian Garden ensemble in Iran. Come along with goingIRAN to see and discover more about this building-block of Iran's culture!
Shazdeh Mahan's Brief History
Shazdeh, being short for Shah-zadeh, literally means king's child and in being so, it belonged to not the king, but a prince of the Qajar Dynasty.
The beautiful Shazdeh Mahan Garden was constructed during the 11-year reign of Abdolhamid Mirza Naserodolleh (1875 – 1891). Although its construction began during his reign, it came to halt upon his death in 1891. Not to say that any of the pavilions or structures at the Persian Garden are incomplete, but that there were plans to even more!
Also, throughout its lifetime, the Shazdeh Mahan Garden has been renovated twice. Once, slightly, in 1958 and a second time in 1981 after it was damaged in an earthquake.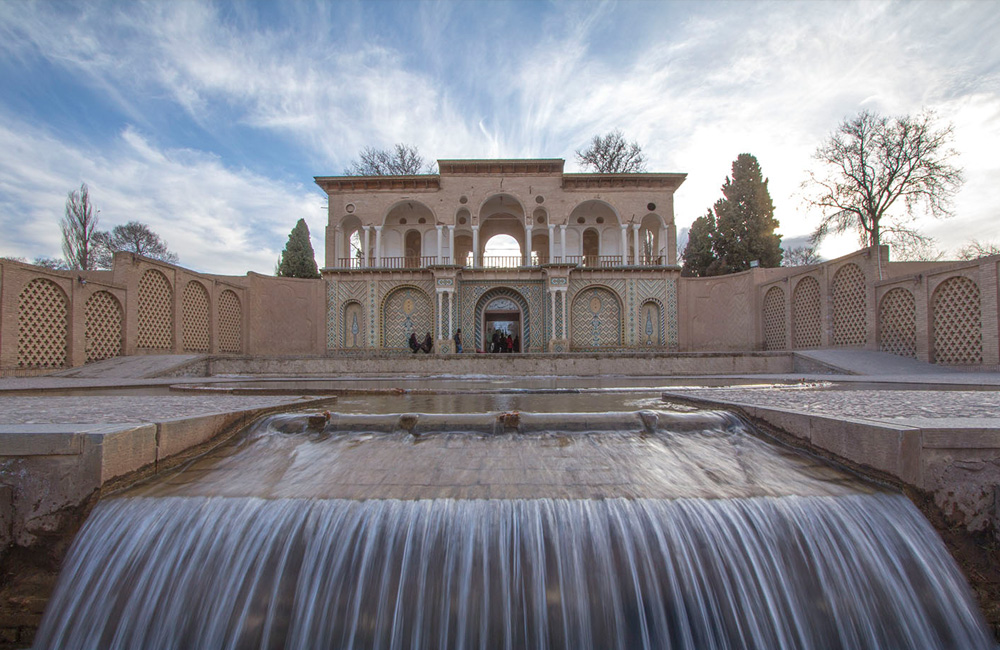 Features of the Shazdeh's Garden
Indeed a playground and desert-oasis built for royalty, the Shazdeh Mahan Garden encompasses a huge 5.5 hectare area. Surrounded by kilometers of dry-arid landscape, the lush Persian garden residence truly appears like a mirage to distant travelers and visitors!
The huge trees and multitude of flora and fauna create a drastic change of climate and ambience, compared to harsh weather outside of the walls!
This is an ideal location for fans of eco-tourism and nature lovers, as the Shazdeh Mahan Garden elegantly presents over 10 species of trees and even more of various plants. From a variety of pine trees to willows and many other indigenous species. Not to mention the plethora of other flowers, plants and shrubs.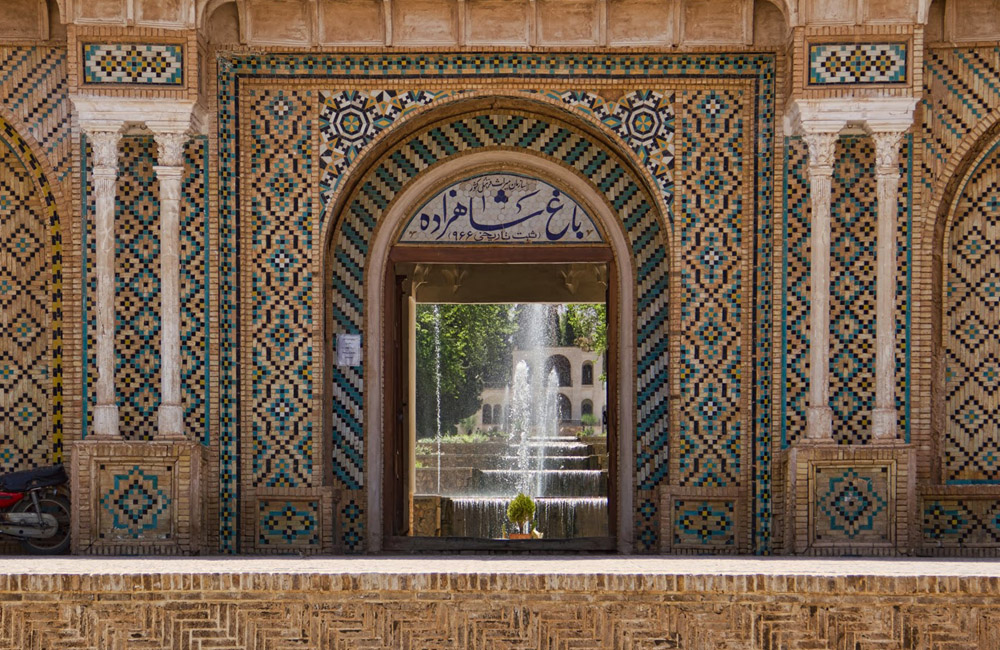 Amongst the pleasant garden trees and flowers in the desert beauty, there are a few buildings. The first is the beautiful entrance portal structure. It is constructed of two floors and was used for living as well as catering to the special guests of the royal family.
The elegance and beauty of the entrance portal is one of Shazdeh Mahan Garden's distinguishing features among the Persian Gardens.
Following the elegant rectangular pool running all the way through the garden, visitors will see many waterfalls and fountains before they arrive at the main pavilion. This structure and design of this mansion is beautifully decorated with plaster and hosts some beautiful examples of Persian woodworking. Known as the permanent imperial abode, this is one mansion that is truly fit for a royal prince.
The remaining structures at Shazdeh Mahan Garden are smaller living and working areas, designated for the workers. Visitors will find them placed throughout the garden in different locations, according to their purpose.
All of the buildings at this refreshing garden are made from brick and plaster. Throughout the entire property, tourists and travelers will be able to many beautiful examples of traditional Persian tilework, plasterwork and architecture.
Despite being built so many decades ago, the beautiful and striking design of this royal home can be seen recreated by many modern architects.
How to Get to Shazdeh Mahan Garden
The way to finding this tranquil oasis is travel 35 km southeast from Kerman, through a city named Mahan. From Mahan, the Persian garden is only a quick 6 km drive out. Tour operators in Kerman will easily be to facilitate your transportation there and back – just make sure you've sorted your return.
    Recommended Reads | Credit Card in Iran (Tourist Card)
    Recommended Reads | Internet Access in Iran