Attention: read Internet Access in Iran Guide before reading this article.
Online recharge in Iran is only possible through web sites designed in Farsi language, which makes it a difficult task for foreign tourists. Thus, goingIRAN team has provided a guidance chart to explain the whole procedure of online recharge along with the required images.
We suggest you to practice the charging with small amounts so in case of any problem you would not lose a lot of money.
STEP BY STEP ONLINE RECHARGE FOR IRANCELL SIM CARD 
Log in to the Irancell online service web site to begin, and then follow the given instructions. Before that, have a look at tariffs written in Farsi.
IRANCELL TOURIST SIM CARD TARIFF THAT CAN USE FOR INTERNET ACCESS IN IRAN:

NOW FOLLOW THE INSTRUCTIONS:
First step for recharging SIM card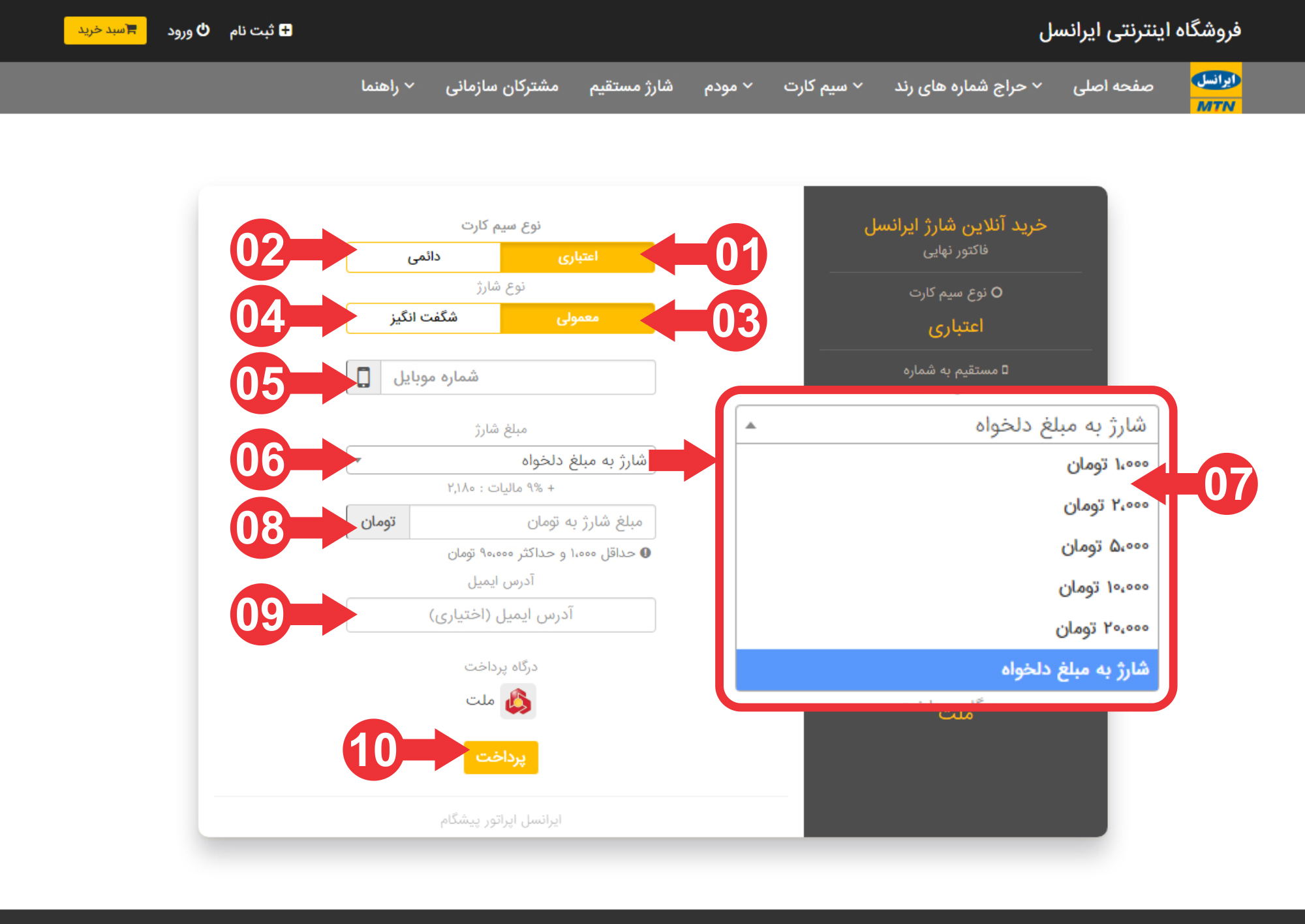 1- Click on اعتباری (prepaid) bottom.
2- This section belongs to postpaid (دائمی) SIM cards which has nothing to do with you.
3- This part is for choosing the recharge type, you may choose the normal recharge or the wonderful recharge on the left side.
4- As mentioned above, wonderful recharge is offering you discount on the balance
5- Here, register your phone number without entering the first 09.
6- Now, it`s time to choose the balance. The last option is to enter your desired amount. Pay attention that all the amounts here are written in Toman, 1000 Toman is equal to 10.000 Rials.
7- This chart will appear after clicking on amount, offering you five different tariffs with an option to enter your desired amount (the last option).
8- If you choose the last option, then fill the blank with your desired amount. Beware that the amount must be typed in Toman.
9- Register your email address. This would be optional, but by registering your email you will receive the purchase receipt which may be helpful later.
10- If all is done correctly, now click on پرداخت (payment) bottom to enter the online banking window.
Second step for recharging SIM card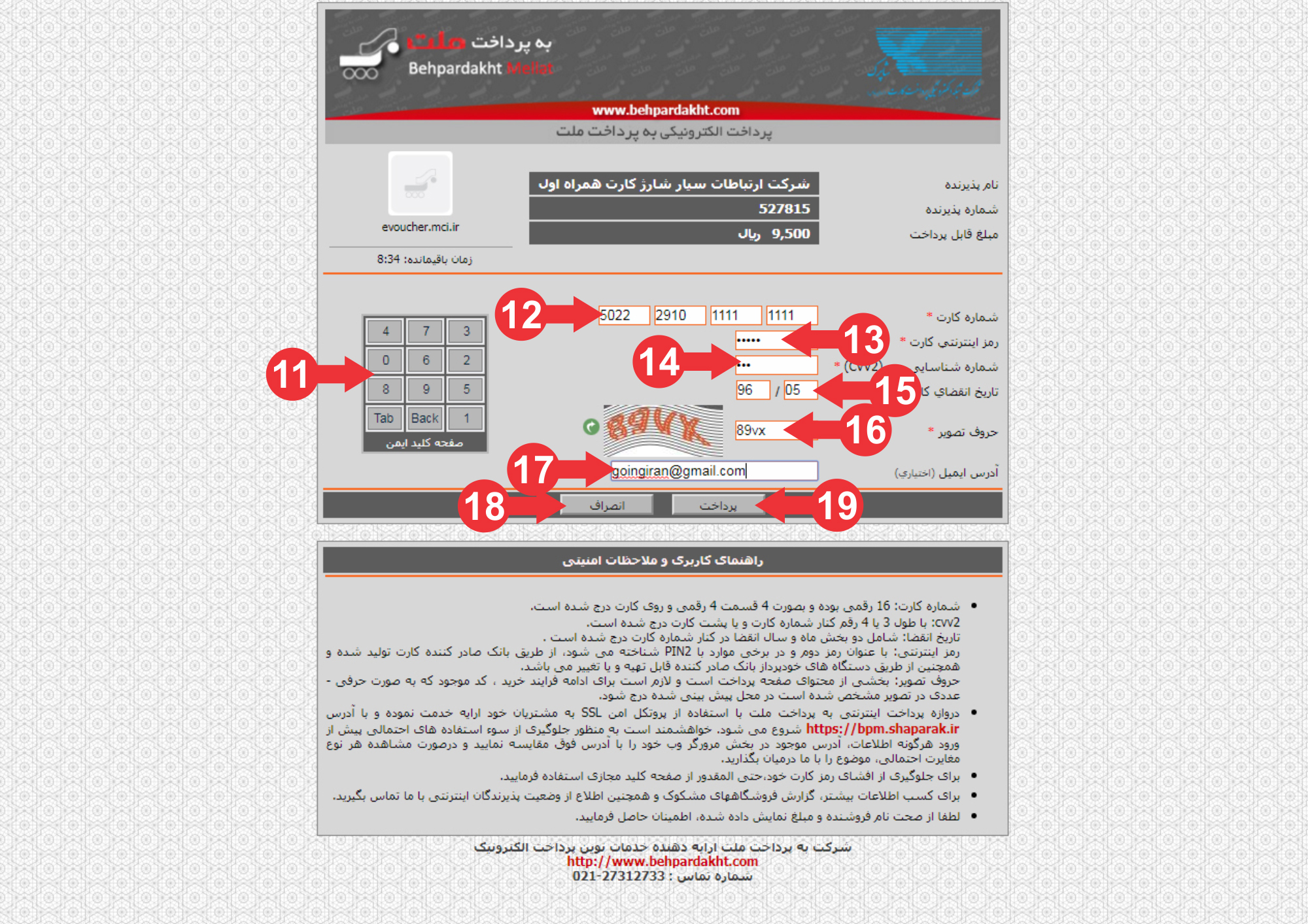 11- Use this keypad to type the numbers, especially to enter password and ID number.
12- Fill up this part with 16 digit card number.
13- Enter the second password of your card.
14- Register CVV2 code, it is printed on your bank card.
15- Now you need to enter the card`s expiry date. Pay attention to type from right to left (for example, if the expiry date of the card is 98.07, you must enter the 07 at the right box and then enter the 98 at the left box).
16- Enter the security code shown in the opposite box.
17- Enter your email address. This would be optional, but it is better to register your email address so the balance purchase receipt will be sent to you, and that may be useful for further inquiry.
18- If you don't want to continue the purchase procedure for any reason, now it`s time to click on the انصراف (cancel) bottom.
19- If you want to finalize your purchase and go to the payment window then click on the پرداخت (payment) bottom.
Third step for recharging SIM card (Tourist SIM card)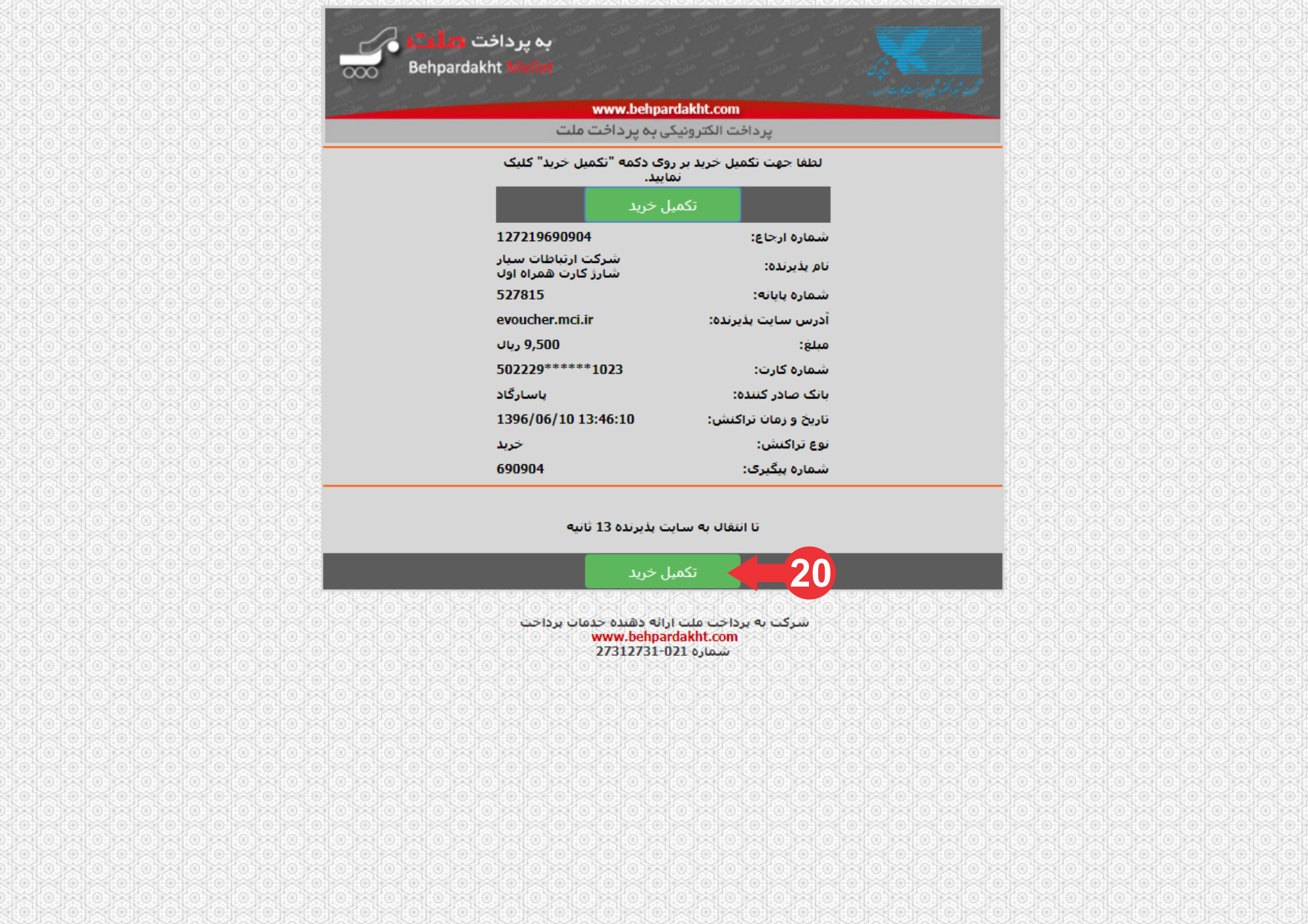 20- This window indicates that your purchase is done successfully. Click on تکمیل خرید (finish the purchase) to move to the next step.
Fourth step for recharging SIM card (Tourist SIM card)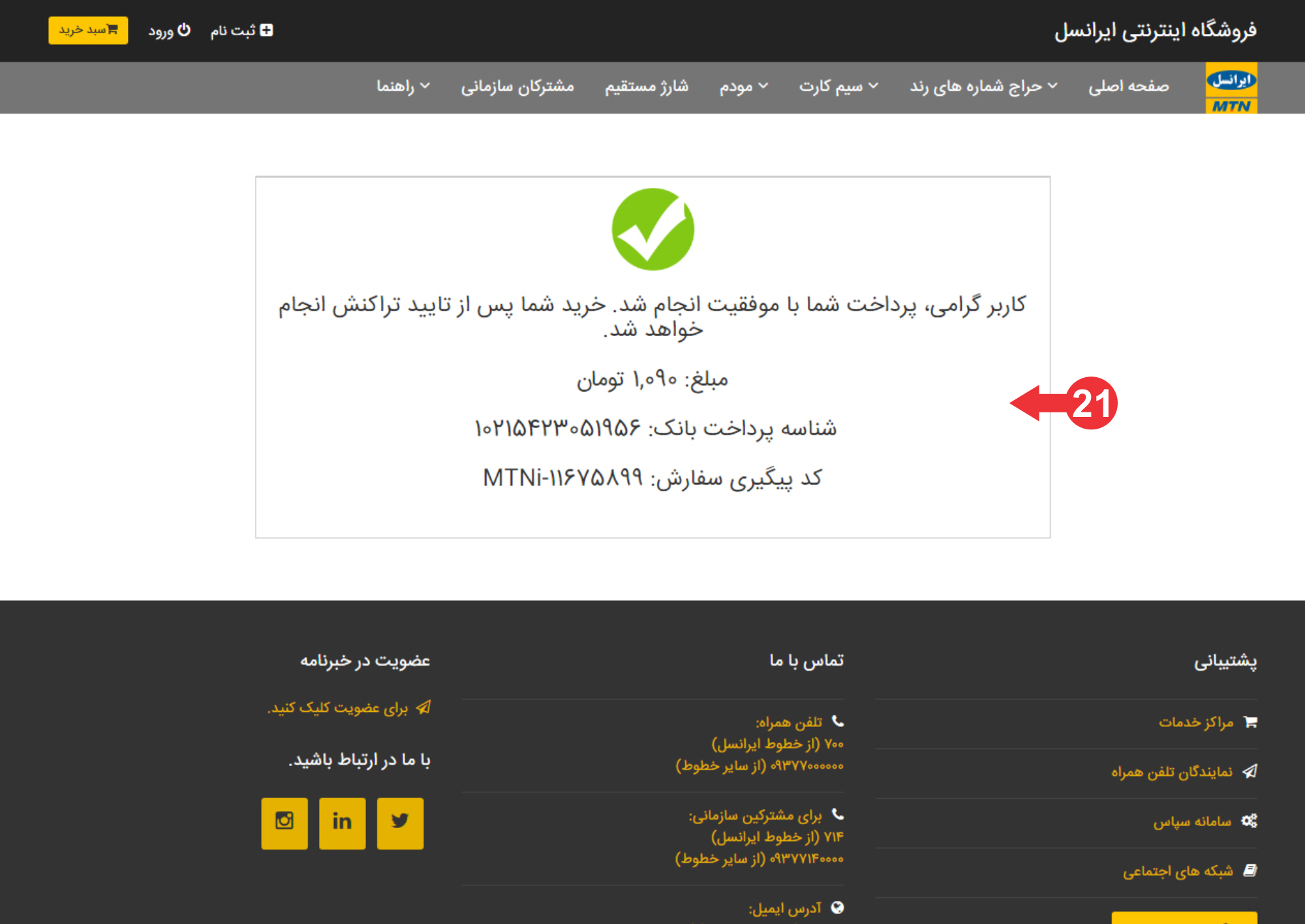 21- In this window, the confirmation message of your successful payment is shown. Would be nice to keep a screen shot of this message in case if any further inquiry will be required.
    Recommended Reads | Internet Access in Iran
    Recommended Reads | Credit Card in Iran (Tourist card)