The Vakil Mosque (Masjed Vakil or Masjed Soltani-e Vakil) is an extraordinarily beautiful religious building in the heart of Shiraz, Iran, that, aside from the massive tourism it attracts, operates as a mosque too!
It boasts many stunning features of classical Persian architecture from the 18th century. Being from the Zand Era, many recognize this building to be an avant-garde building in traditional Persian architecture.
Come along with goingIRAN to learn and discover more about this beautiful gem of the Persian culture!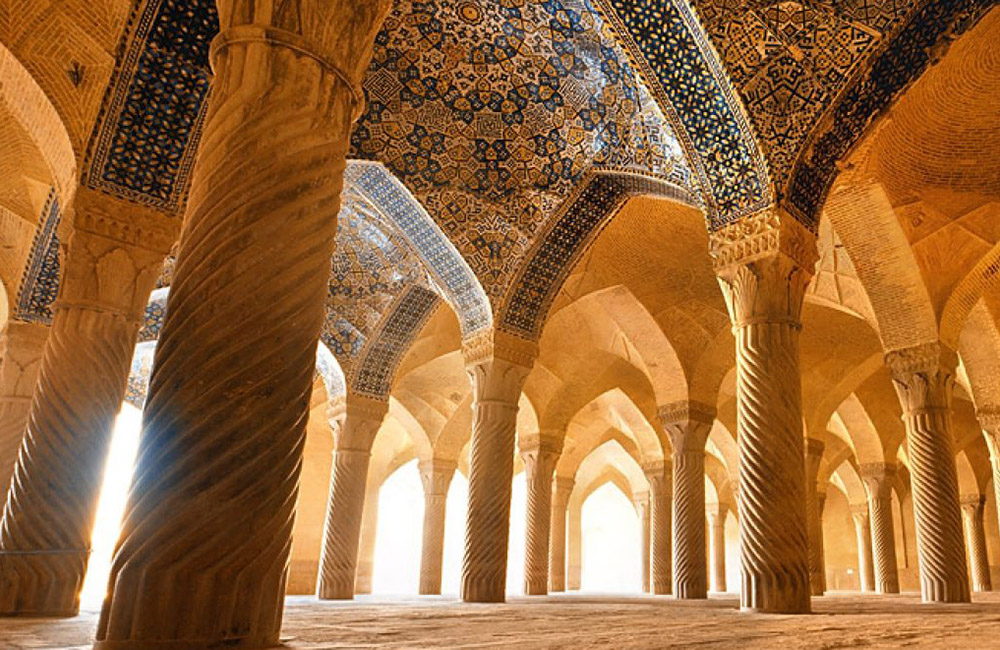 The Vakil Mosque's History
The history of the Vakil Mosque leads us back to the 18th century Zand Dynasty (Zandiyeh). Although it was a much shorter lived reign (about 40 years) relative to the previous dynasties, it was a culturally rich era.
Karim Khan was a very respected and powerful leader whom led the Persians positively and is responsible for many great cultural achievements in Iran. In this short period of time, a remarkable amount of new and quality art emerged from the Persian culture.
Many artistic styles that followed that of the Zand Dynasty were heavily influenced and impacted by them.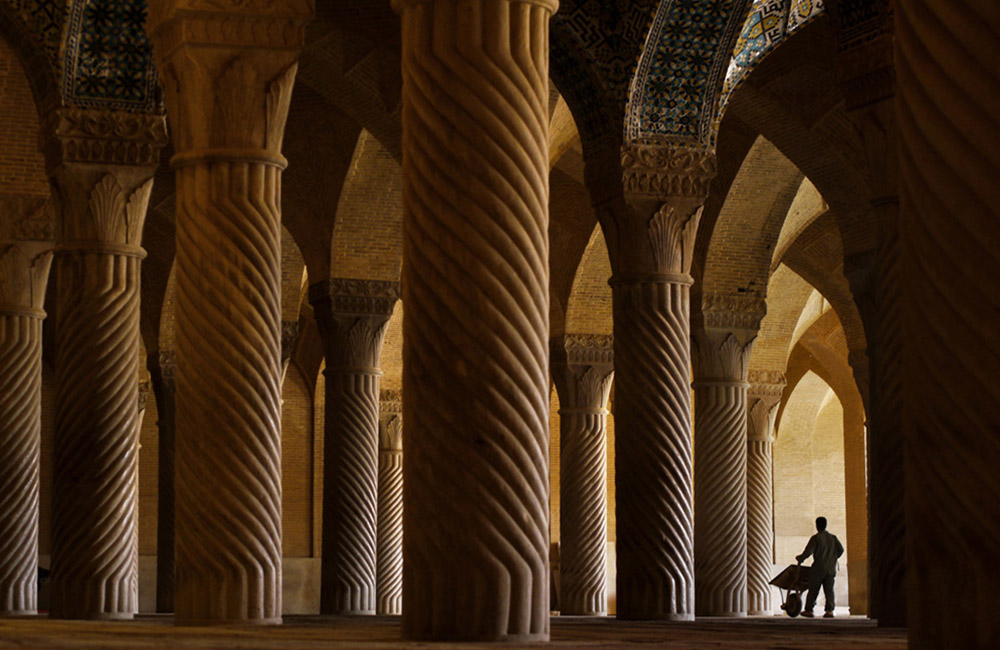 Under Vakil's Dome
It is located in the heart of the city along with its Zand Era companions, the Vakil Bathhouse and Vakil Bazaar. Tourists can find the beauty in the western wing of the Vakil Bazaar, at the end of the shamshirgarha (swordsmiths) isle.
The Vakil Mosque is built in the two-iwan style and has two shabestans in the east and south of the building. The entire structure encompasses a massive 8660 meters squared of area! Aside from all the standard and gorgeous symmetries, the Vakil mosque also has some distinctive features.
In order to have the mosque facing the Qibla and still have the entranceways to and from the bazaar, the architects had to use some ingenuity. The pathways between the two have been designed in such a way that they do not reveal this curvature what so ever!
In the southern shabestan is one of Vakil Mosque's most interesting features, solid-piece stone columns. The 48 spiraling stone columns characterize classical Persian architecture styles and designs.
Underlying the beautiful columns, the whopping 5,000 meters squared shabestan is also home to a 14-stepped minbar. Made out of solid marble, the luxurious minbar is said to have been made-for and brought-in by the order of Karim Khan-e Zand himself!
-In the north of the mosque, there is a very famous arch name Morvarid Arch or Tagh-e Morvarvarid; morvarid translates to 'pearl' in Persian. Inside this vaulted ceiling, visitors and tourists can be a witness to an extremely fine example of old Persian cursive writing.
Throughout this beautiful mosque, visitors will be able find and phenomenal displays of traditional floral tilework. The Vakil Mosque does a great job in bringing together the beauties of divinity and life together in a beautiful play of colors and patterns.
| Befor Travel To Iran Read This Articles

how you can use Credit Card in Iran

Everything About Internet access in Iran
City/Town: Shiraz
Address: Valik Mosque, Taleqani St., Lotf-Ali khan zand St.
Operating Days: Every Days
Neighborhood: Vakil Bazaar – Moshir Bazaar – Mesgarha Bazaar – Zargarha bazaar – Nazar Garden & Pars Museum – Arg of Karim khan – House of Poems – Nasir al-Mulk Mosque