Resting quietly in the revitalizing foothills of Tochal and Darband Mountains in Tehran, lays a monumental 110 hectare Saadabad Palace Complex.
Originally established late 17th century as a royal summer residence, it was expanded even further during the Pahlavi Dynasty (19th century) with the addition of new gardens. The Saadabad Palace compound is comprised of eighteen different mansions and palaces.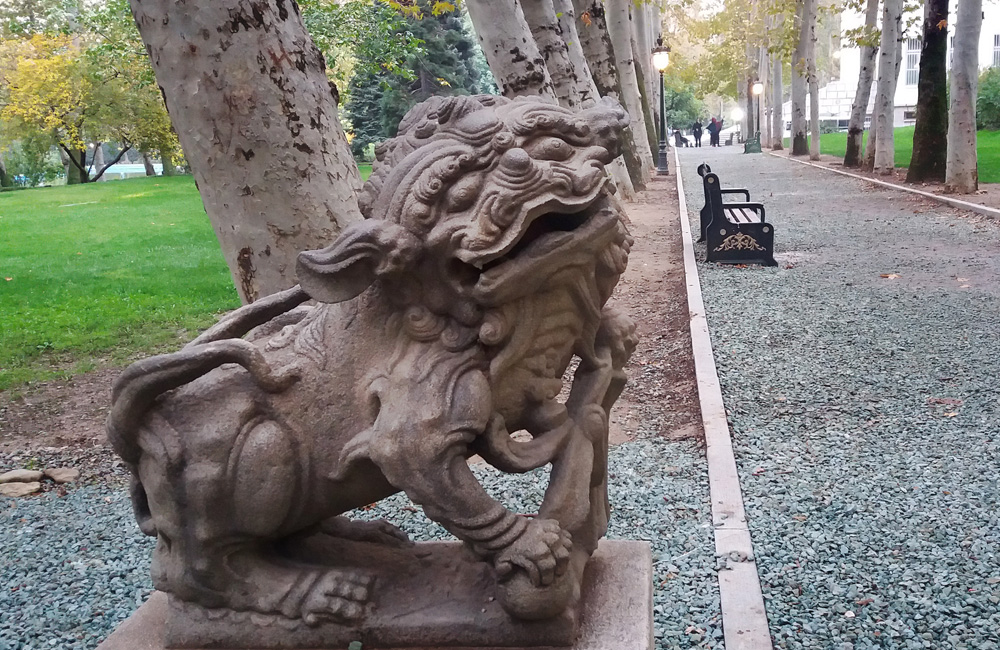 These facilities were created for the exhibition of Iranian art and architecture and so since the Islamic Revolution of 1979, they were turned into public museums. palace complex is an extremely dense source of Iranian cultural and historical artifacts and information.
Two of the many palace structures, White Palace and Green Palace, are open to the public as palace museums, which solely boast the beauty and elegance of their décor and architecture. The remaining buildings, alongside their beauty, have also been allocated to the display of exhibitions, each according to their own theme:
1. Behzad Museum of Saadabad Palace
The former residence and office place of Reza Shah built in circa 1800 is a host to the treasured paintings done by Hossein Behzad; one of the founders contemporary Iranian painting.
Typical Price: 100.000 Rils. (10.000 Tomans)
2. Royal Tableware Museum of Saadabad Palace
Originally built with the outer walls covered in beautifully carved stones, the later expansions and renovation of this building concealed them with simple alabaster stones. Since 1994, it has been used to display the royalty's stunning tableware.
Typical Price: 100.000 Rils. (10.000 Tomans)
3. Farshchian Miniature Museum of Saadabad Palace
A museum facility dedicated strictly to the paintings of Mahmoud Farshchian. Truly awe-inspiring works of a modern master of Persian miniature paintings (ancient Persian art form), are displayed for all to see.
Typical Price: 100.000 Rils. (10.000 Tomans)
4. Royal Kitchen Museum of Saadabad Complex
Serving as the kitchen for the white palace, this modern German-furnished kitchen was where dedicated cooks were commissioned to serve the cuisine of the king, queen and their children (1975).
Typical Price: 100.000 Rils. (10.000 Tomans)
5. Fine Arts Museum of Saadabad Complex
What used to be the Royal Court is perhaps one of the most magnificent mansions of the Saadabad compound. Since 1983, when it became the Fine Arts Museum, it has attracted endless crowds of artists and art enthusiasts to its admiration. Decorated with extravagant black marble stones, it houses numerous precious paintings from the 15th to 20th centuries. Among the artists of such art works are: Sohrab Sepehri, Hussein Mahjobi, Salvador Dali, Peter Graham and Ivanovic Shishkin to name a few.
Typical Price: 100.000 Rils. (10.000 Tomans)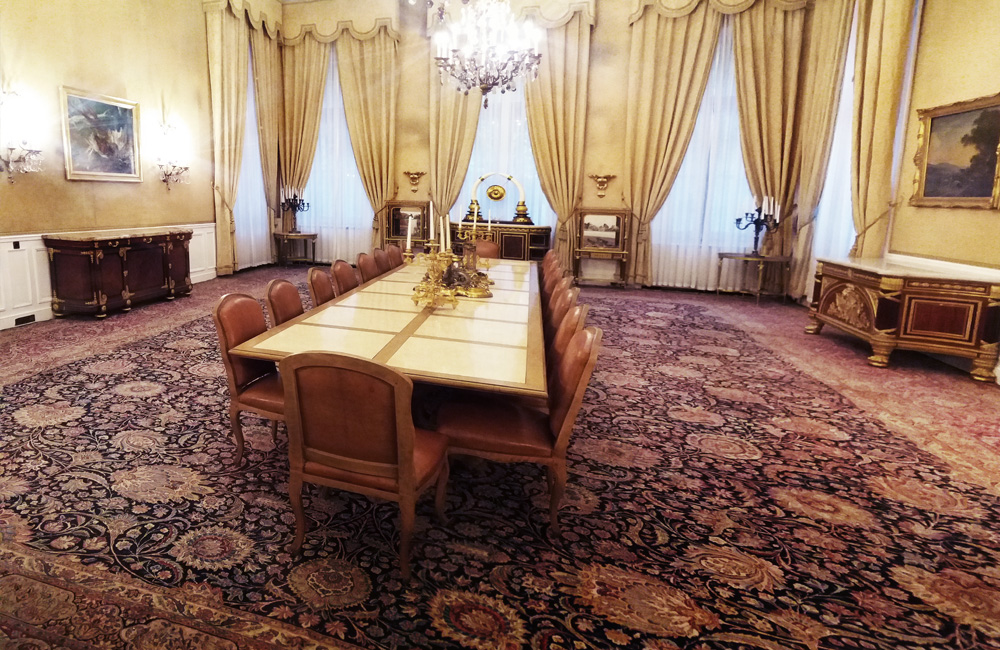 6. Museum of Nations of Saadabad Complex
This museum holds a unique collection of art work from different parts of the world which were gifted to the royal family. The art works range from the Pre-Islamic era and Islamic era from Africa, India, Malaysia, Far East, as well as contemporary national and international art works.
Typical Price: 200.000 Rils. (20.000 Tomans)
7. Negarestan Palace of Saadabad Complex
Originally the house of Reza Shah's daughter, Fatimeh Pahlavi, and later the residence of the queen's mother, Mrs. Farideh Diba. As of 2007, this building has housed many different exhibitions, the first of which being dedicated to traditional Iranian clothing and costume design.
Typical Price: 100.000 Rils. (10.000 Tomans)
8. Royal Albums and Documents Museum of Saadabad Complex
Dubbed 'The Office of the Royal Guard' by Reza Shah Pahlavi II, this building was meant to hold and protect the royalty's personal items and belongings, since the day of its construction.
Since the Islamic Revolution, this facility has had many different functions, as to which the latest, since 2012, has been the Museum of Royal Albums and Documents. It now exhibits over 500 royal photo albums of different trips to daily life, documents of the affairs of the palace, as well as some private documents of the royal family.
Typical Price: 100.000 Rils. (10.000 Tomans)
9. Mir Emad Calligraphy Museum of Saadabad Palace
Originally the living space of Pahlavi's children, Farahnaz and Alireza, since 1997 it has been the Calligraphy Museum.
Named after the most famous calligrapher of the Safavid Dynasty, Mir Emad Hassani, this 2-story building features the art works of many famous calligraphers of the Islamic periods from the 4th to 14th centuries.
Typical Price: 100.000 Rils. (10.000 Tomans)
10. Royal Car Museum of Saadabad Palace
A showroom displaying the many luxurious vehicles owned and used by the Pahlavi royal family.
Typical Price: 100.000 Rils. (10.000 Tomans)
11. Contemporary Costume Museum of Saadabad Palace
Formerly known as 'The Museum of Art and People', is what used to be the summer residence of Shams Pahlavi, Reza Shah's daughter, is now an incorporation of the Handicrafts Museum, Anthropology Museum, and the Contemporary History Museum all in one.
Typical Price: 100.000 Rils. (10.000 Tomans)
12. Omidvar Brothers Museum of Saadabad Palace
As the former 'coach-house', this beautifully decorated manor is comprised of four rooms, in which the royal coach drivers used to reside. In 2003, this building was renovated and renamed after two Iranian travellers who voyaged across the globe with only $90, in 1954.
Typical Price: 100.000 Rils. (10.000 Tomans)
13. Military Museum of Saadabad Palace
As of 1984, this building has been a museum display of Iran's military history and contains a wide variety of weapons, uniforms, photos, books and other related items.
Typical Price: 100.000 Rils. (10.000 Tomans)
14. Royal Weapons Museum of Saadabad Palace
Former residence of Mohammad Reza Pahlavi's brother, Gholam Reza Pahlavi, now is the exhibition facility for over 70 pieces of war weaponry and the royal hunting rifles.
Typical Price: 100.000 Rils. (10.000 Tomans)
15. Water Museum of Saadabad Palace
Reza Shah's former office that he used for the reception of the courtiers and clients. It now is home to the exhibition of extraordinary ancient and traditional water distribution and supplementation techniques and instruments. Water reservoirs, ice storages and other water-related structures are also on display.
Typical Price: 100.000 Rils. (10.000 Tomans)
     Recommended Reads | Tehrans Top Five Destinations
     Recommended Reads | Tehrans Grand Bazaar
City/Town: Tehran
Street Address 1: Darband Sg., Tajrish Sq.
Street Address 2: End of Taheri St., Zafaraniyeh St., Velenjak.
Operating Days: Every day
Operating Hours: 9am – 5pm
Neighbourhood: Darband Mountain – Bagh Ferdows area