Check out the one-of-a-kind Ab Anbar Haft Badgir, in the deserted desert village of Asr Abad in Yazd and see why it has so many tourists and visitors travelling to see it!
The Ab Anbar Haft Badgir is a beautiful rustic testament to ancient Persian culture and history. In such harsh desert climates and no electricity, the Persians had to devise a way to store and keep water cool.
The ancient ab anbars, Persian for 'water reservoir', did just that. Utilizing the unique Persian technology of the badgir (wind catcher) system these old buildings supplied towns with the crucial element of water in the hot desert days!
Come along with goingIRAN to see what you can find when you visit this destination on your travel to Iran!
The Haft Badgir Water Reserviors History
The Ab Anbar Haft Badgir is dated back to the old Persian Qajar Dynasty.
Located near the same little town of Ashkezar, home of the ancient underground watermill, Ab Anbar Haft Badgir is a humble rural village. Up to about half a century ago, the Asr Abad village was inhabited by around 50 close-knit families.
Due to a severe and lasting drought, all of the families have moved out of their homes to nearby cities. This event has caused the rural village of Asr Abad in Yazd, Iran to become a ghost town!
Due to its desertion, the whole village has been taken over by a beautiful and rustic antiquity. The rural time-worn landscape is now a prime location for shooting those gorgeous desert village photos you've always dreamed of!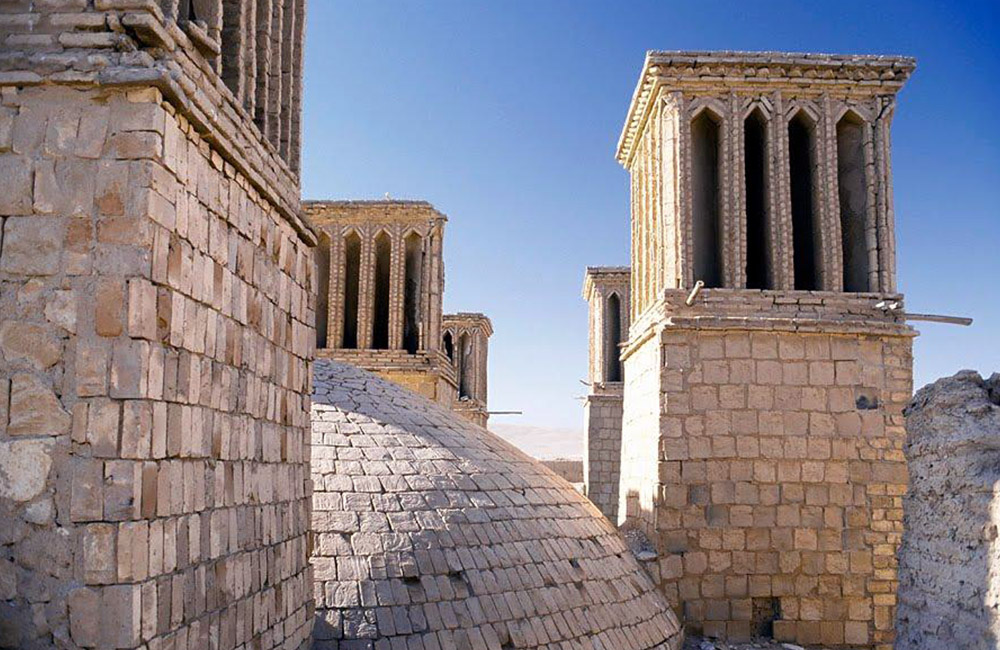 The Ab Anbar's Features
If you've already been to the Shish Badgir Water Reservior, this one may seemingly look very similar. Except for the addition of the obvious extra badgir, the Ab Anbar Haft Badgir has a few other distinguishing aspects.
The feature of having two water stores, instead of one, makes this seven wind-catcher water reservoir a unique specimen of its kind. Another very interesting feature is that, unlike all of the other water reservoirs we see in Iran, this one is not facing qibla.
This is because it was created by the Persian locals' of the Zoroastrian faith.
The height of the water tanks are two meters high and the wind-catchers stand some 6 meters tall. The water reservoirs are topped by two egg-shaped domes; the shape of these domes have a role in moderating the interior climate.
The entire structure is made of bricks, raw adobe, plaster and sarooj (check out what it's made of in the Yakhchal Abarkuh ancient refrigerator post). The seven tall wind-catchers have four openings on all four of their sides to maximize the intake of air.
Despite Asr Abad having become a ghost-town, it hasn't decreased its popularity among tourists. This very aspect has made it a phenomenal tourist attraction, as visitors and tourists can now peak inside all of the village homes as well as Ab Anbar Haft Badgir!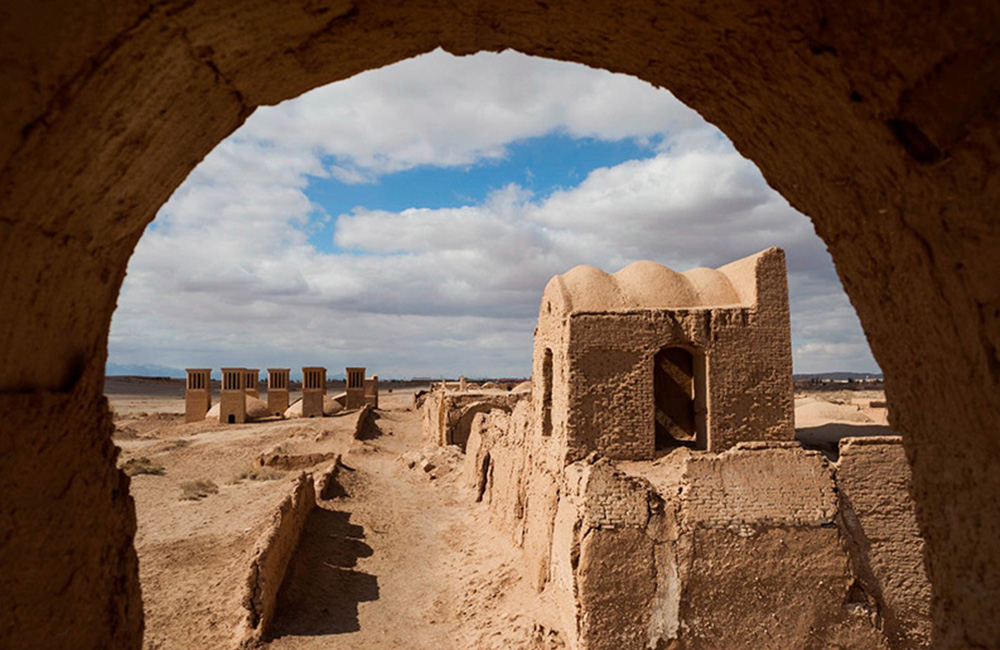 Reaching the Ab Anbar Haft badgir
It is a short car/taxi ride away from Ashkhezar and can be reached by asking just about anybody in town. Ashkezar, itself, is located about 20 kilomters north of Yazd City, Yazd, Iran.
If you're travelling without a tour guide, make sure you have a sure-way of getting back-to or onwards-to your next destination. Safe travels!
    Befor Travel To Iran Read The Article "Everything About Internet in Iran"
    Recommended Reads | Credit Card in Iran
City/Town: Ashkzar – Yazd
Address: South of Hossein Abad Village, 70 Asia Expy, Yazd-Meybod Expy.
Operating Days: Everyday
Operating Hours: 24 hours
Typical Price: Free