Also known as Jashak Salt Dome, Kuh-e Namak which means Salt Mountain in Persian, is quite the extraordinary geological attraction; surface comprised entirely of salt on the southern slope of the Zagros Mountains in Bushehr, Iran. Spanning over 3,600 hectares and over 1,300 meters in height, the gigantic salt-crystal mountains shine stunningly in the sun. Salt may create a picture of giant white colored mountains; however in these unique mountains wide arrays of colors are witnessed. Come along with goingIRAN to learn and discover more about this attraction!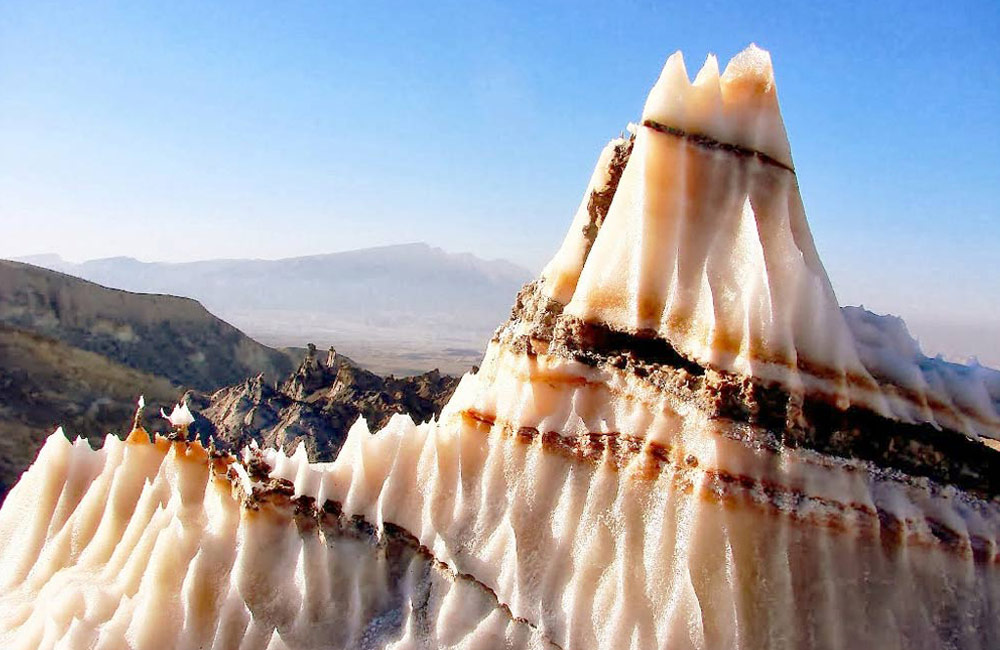 As if a giant mountain made of colorful crystalline salt wasn't awesome enough, there is yet even more to this place. Aside from looking like big glaciers, these mountains are home to a few many mysterious caves. The inside of these caves are completely adorned in fantastic crystals made of salt, pyrite and fluorine. Coming outside of the caves and looking up on the mountain, yet another beautiful sight awaits Kuh-e Namak's visitors. From mid-spring to early autumn, remarkable salt-waterfalls can be seen. As the higher temperatures cause the water in the crystals to evaporate, these sensational waterfalls are created! This phenomenon plus the occasional rainfall are what give this mountain its extraordinary shape.
While visiting the Southern Iran, do miss out on seeing this beautiful rare site. Maybe you'll even take a couple of crystals home with you as a souvenir!