Sheikh Lotfollah Mosque, a masterpiece of Iranian-Islamic architecture, is standing on the eastern side of Naqsh-e Jahan Square, facing Ali Qapu Palace. With no minaret and entrance courtyard, it was not designed based on traditional mosque design patterns of 17th century. With its breathtaking architectural design and beautiful tile work, it was constructed during 1585-1602.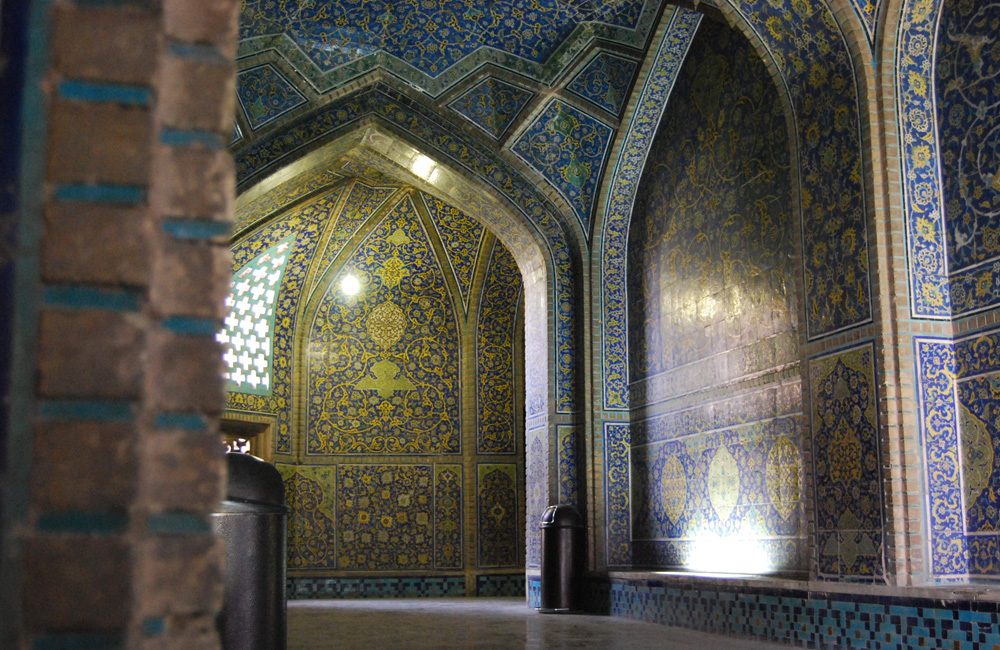 With the order of Shah Abbas the Great, 5th Safavid king of Iran, the mosque was built by chief architect Mohammad Reza Isfahani. It is one of the unique monuments fully covered with colorful mosaics from the plinths up to the doom. The exterior and interior layers of the doom is designed by the exquisite mosaics in their intricate patterns, shaping one of the most beautiful domes of the world.
Unique characteristics of Sheikh Loftollah Mosque
Heavenly and earthly colors used in the wonderful tile work of Safavid style can create an interesting experience for any tourist. Unlike other authentic and great mosques of Iran, there is no sign of minaret or entrance courtyard. It is said this mosque was built for women of Shah Abbas Harem, thus there is no minarets for prayer call.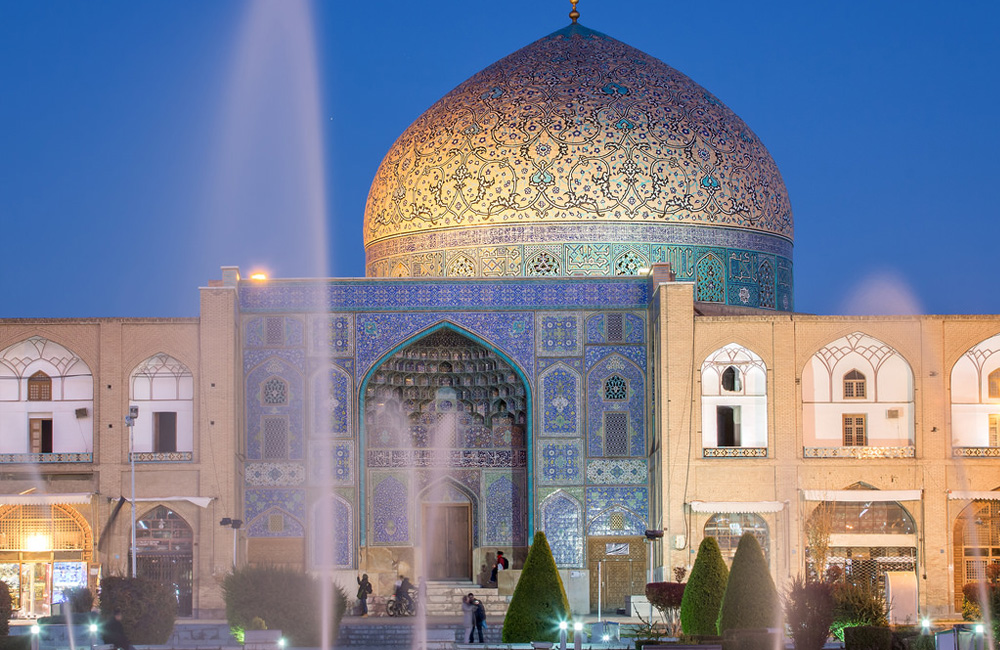 The building of the mosque (Sheikh Lotfollah Mosque) is set at 45 degrees to the north-south orientation of the Qiblah. This is called "pashnah" in Iranian architecture, and in this case it is done so skillfully that does not drive any attention. This rotation makes you pass through a long and dark vestibule, and then enter the main dome chamber.
The exterior dome layer is decorated with white mosaic calligraphy in Thuluth Islamic script on a cobalt-blue background. The calligraphy of dome`s interior layer, is done by Alireza Abbasi and another unknown master called Ustad Bagher.
Recently an underground corridor was discovered connecting Ali Qapu Palace and Sheikh Lotfollah Mosque, which might have been a passage for female prayers.
Who is Sheikh Lotfollah and why this mosque is named after him?
He was one of the Shia Imams of Lebanon, who was invited to Isfahan by Shah Abbas the Great for promotion of Shia jurisprudence. This mosque was then built in his honor to teach and pray. On the other hand, Sheikh Lotfollah was Shah Abbas father in law, thus a school and mosque was constructed for Sheikh to hold religious meetings and preach jurisprudence knowledge.
How to get to Sheikh Lotfollah Mosque?
Sheikh Lotfollah Mosque stands on the main square of Isfahan, Naqshe-e Jahan square. If you are planning to visit this mosque, you may need a full day. Imam mosque (King Mosque) next to it, Ali Qapu Palace on the opposite side of square, and Isfahan Isfahan Bazar located at northern side of the square are also great monuments worth the visit. If there is still any time left, don't miss visiting Constitution House of Isfahan, Chehel Sotoun palace (literally, Forty Columns), and Hasht Behesht Palace (literally, Eight Paradises).
City/Town: Isfahan
Address: Naghsh-e Jahan Square
Operating days: Every day
Operating Hours: 9am. to 6pm.
Typical Price: 200.000 Rls.
Neighborhood: Naqsh-e Jahan Sq., Imam Mosque, Isfahan Bazaar, Mesgarha Bazaar, Ali Qapu palace
    Recommended Reads | UNESCO World Heritage Pasargadae
    Recommended Reads | UNESCO World Heritage Persepolis (Takht-e Jamshid)