You need to climb thousand steps to reach Rudkhan Castle which sits on top of the two peaks of Fuman Mountain and resides deep inside the verdurous woods of North of Iran.
Rudkhan castle (Ghal-e Rudkhan) village, about 22 km to the south west of Fuman city, owes its name to the castle which exists deep inside the woods over the mountain, and it requires to climb almost thousand steps to reach the castle. According to experts claim, this castle was constructed in Sassanid empire era (650 AD) simultaneous to Arab`s invasion. Later in 1040 AD and during Seljuks dynasty it was rebuilt and has been used as a fighting base for Isma'ilism.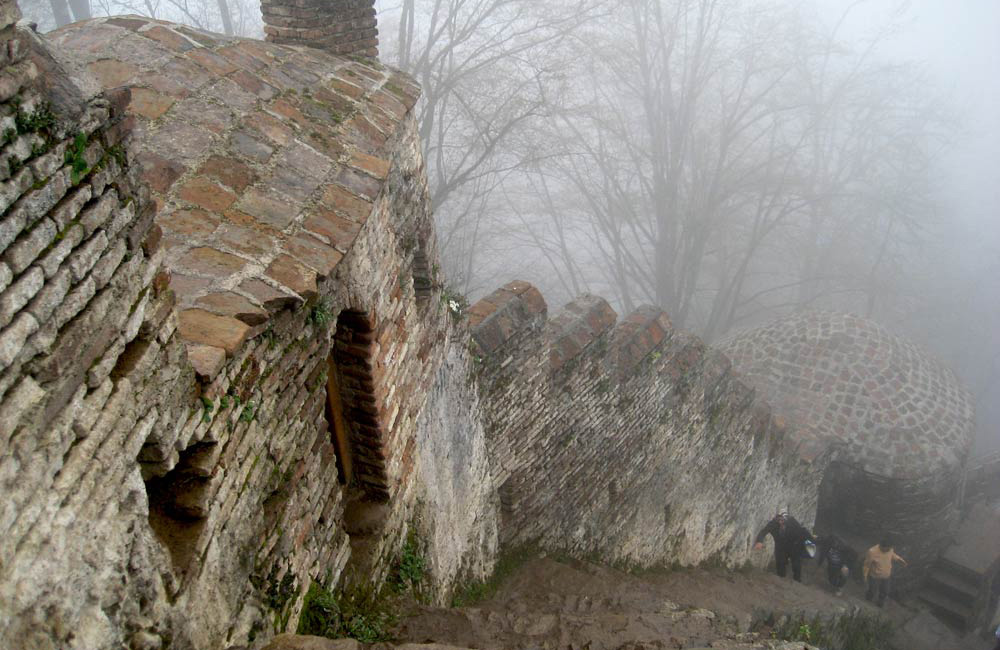 Ancient Rudkhan Castle Appearance
Rudkhan Castle in an area of 22300 square meter, contains 42 towers and is made of millions of bricks at a length of 500 meters. It contains two sections. One being the Arg, where the ruler and his Harem used to reside, the other is armory section where soldiers were living and military activities was occurring. Castle`s structure is shaped by three portions of middle, eastern and western sections. The eastern part sits on the 670m peak and is separated from other sections by a gate. The main gate locates in the middle section which is the lowest land, and the western section locates on the steep slope of the mount contains an entrance gate, reservoir, cold storage, lavatory, alcove, guard house and some residential units.
An interesting fact about the castle is that it was impossible for enemies to enter that area due to its unique location.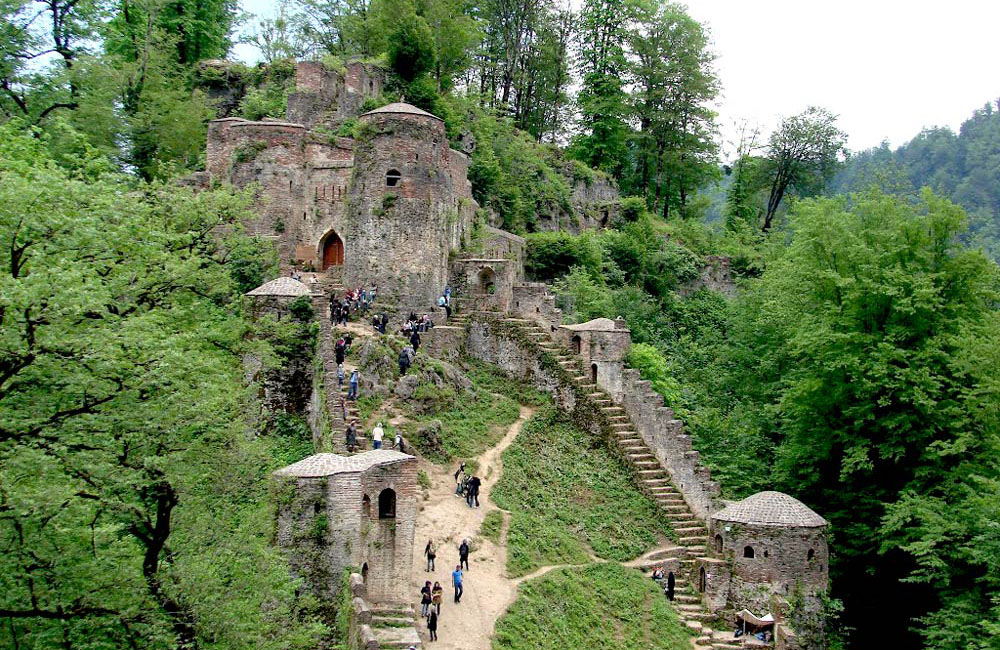 History of Rudkhan Castle
In old times, Gilan was divided into two regions of Beeye Pas and Beeye Pish. Fuman was the capital of Beeye Pas (New Gilan) region until 1572. Rulers decided to protect their capital by constructing a fortified castle, so it could be the settlement for government with military purposes. Rudkhan Castle is an obvious example of such structure.
How to get to Rudkhan Castle
Fuman is located 35km away from Rasht, capital of Gilan Province. When you reach Fuman, in one of the city`s main squares you may face a junction. One route is leading to historic village of Masuleh, and the other is taking you to Rudkhan Castle, almost 22km away from this point.
Don't forget to try Fuman`s famous cookies when you blow over the town!
Best time to visit Rudkhan Castle
Visiting Rudkhan Castle is almost possible round the year, but if you are planning a visit during the cold season, you need to consider slipping pathway towards the castle, lack of green color in the woods, and closed shops on your way.
In spring and summer visiting hours is from 8 a.m. to 6 p.m. and during the cold season it would be from 8 a.m. to 4 p.m.
Keep in mind:
There are no English speaking guides in Rudkhan Castle, so better to have a tour guide with you to benefit the information.
There are shops and food stalls on your way, but the food quality is not guaranteed.
There are old style kiosks on the climbing path which offer coal steeped tea and Ashe-e-Reshte (a local liquid food) that might be attractive for tourists.
You may not be able to use your cell phones here, because the network coverage is weak at some points.
If you are planning to stay overnight, consider the possibility of wild animal attack.
Better to put proper shoes on, because the walking path might be slippery during some seasons and when it rains.
Carry your sunscreen lotion.
There are plenty of places for rent if you are thinking about staying for some days, and you can benefit the facilities according to your need.
    Recommended Reads |  Pasargadae Ancient City
    Recommended Reads |  Persepolis (Takht-e Jamshid)
    Recommended Reads | Internet Access in Iran