Hammam-e Vakil, also spelled Hamam-e Vakil and referred to as the Vakil Tea house or Vakil Bathhouse, located in the Kerman Bazaar area, manages to stay true to its roots in the most unique of ways!
In recent years, Hammam-e Vakil has been turned into a traditional Persian tea house. After a couple hundred years of being used as a traditional place of bathing, it has very gently changed functions; now supporting another integral part of Iranian culture, a tea house!
Not worry, however, being run by a government organization, none of its beautiful features and structural integrity have been comprised in this conversion!
Now, instead of just viewing the bathhouse as a cultural travel destination, you can enjoy a delicious cup of Persian tea, accompanied by local traditional sweets and confections!
Founded by Vakil-ol Molk (Esmaeil Khan-e Nouri), the Qajari ruler of Kerman in 1891, Hammam-e Vakil is one of Kerman's main traditional, cultural and historical structures.
It is completely covered in beautiful works of ceramic tilework the bathhouse divides into two sections; the garm khaneh (hot bath hall) and dressing hall. Come along with goingIRAN to see and learn more about this top destination of Kerman, Iran!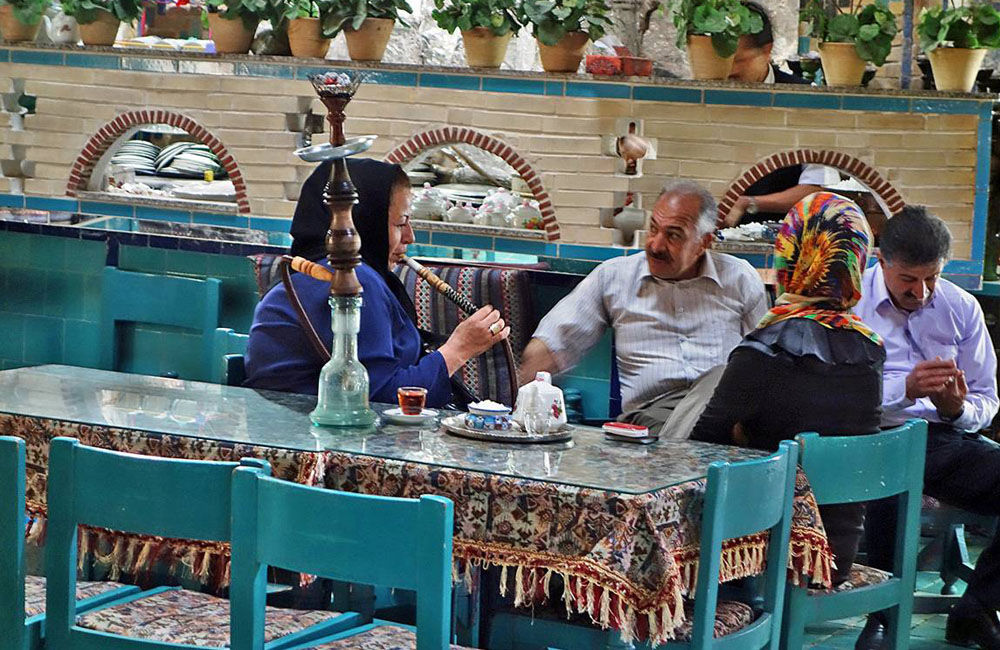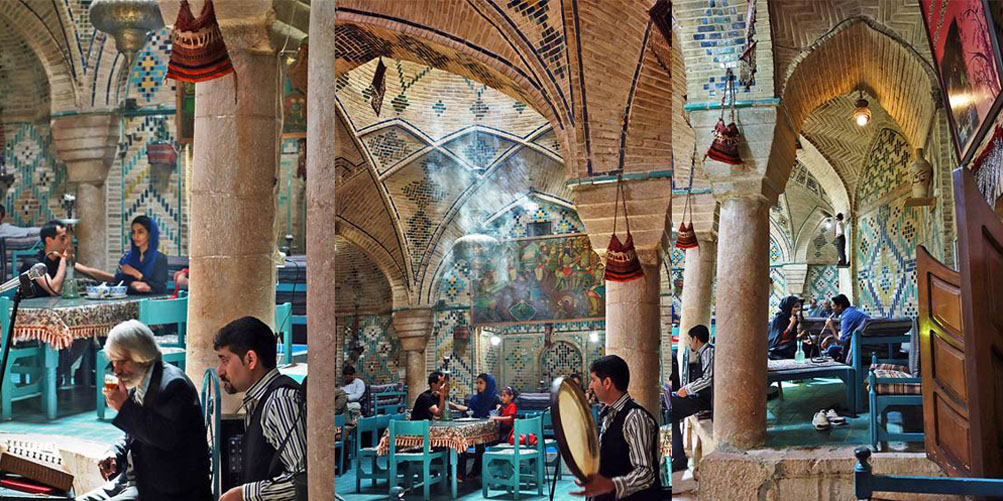 What Visitors Will Find at Hammam-e Vakil
Designed by the same architect, Hammam-e Vakil was constructed to a very similar model to that of the Ganjalikhan Bathhouse. It has been designed in the Zandiyeh Qajari architectural style.
Alongside the traditional tilework, plasterwork and designs, elegant stone columns hold up the beautifully decorated arcades throughout the entire building.
Among the two main areas of Hammam-e Vakil, visitors will find the bathing-pools to now be flooded with people and comfortable seats instead of water.
Tourists visiting the Hammam-e Vakil Tea House can enjoy a wide array of fantastic Persian foods and goodies. Every day from 1 – 4pm visitors can enjoy many traditional Persian dishes for lunch.
If you've already eaten or that's just not your cup of tea (pun fully intended) drop by at another time of day and you can still sip on some herbal tea while smoking Persian ghelyoon (hookah), or try out the heavenly frozen noodle treat, faloodeh.
How to get to Hammam-e Vakil
As one of Kerman's top destinations, Hammam-e Vakil is very easy to find. Tourists and travelers will literally be able to ask just about anybody around the Kerman Bazaar area and they will be pointed to bathhouse just meters away!
City/Town: Kerman
Address: Tohid Square, Between Ganj Ali Khan Bazaar
Operating Days: Every day
Neighbourhood: Vakil Bazaar – Ganj Ali Khan Bathhouse – Ghalee Bazaar – Arg Square
    Recommended Reads | Internet in Iran
    Recommended Reads | Credit Card in Iran